Mini documentary made ​​with the director, writer and producer Geraldo Moraes on the importance of sound in cinema.
---
---
---

The program The Art of Artist 's TV Brazil, produced a special edition to "unravel the mysteries that lie behind the soundtracks, an artistic genre that brings together music, voices, noises and various sound effects to give more life and excitement to movies , novels, plays and television programs. "
Tato Taborda , o gerente-executivo de música da TV Brasil Ricardo Vilas , e Flavia Ventura , que compõe algumas trilhas para o próprio Arte do Artista. The program relies on the testimony of renowned professionals of the area as the composer David Tygel , conductor and music producer Tato Taborda , the executive manager of the music TV Brazil Ricardo Vilas , and Flavia Ventura , who composes some tracks for the Art itself Artist.
Check out the full program "What mysteries lurk soundtracks?" Page: The Art of the Artist
---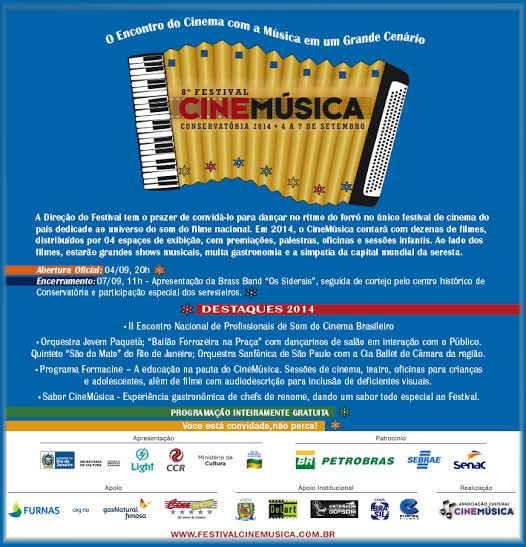 8º Cine Música – Festival de Cinema de Conservatória , único festival de cinema do país dedicado exclusivamente à trilha sonora dos filmes. 04 to September 7 happens in the city of Registrar-RJ the 8th Cine Music - Film Festival Conservatory , only film festival in the country dedicated exclusively to the soundtrack of the film. This year's theme is forró and the event is open to the public with free admission!
Recalling that the festival also receives this year's Second National Meeting Professionals Sound of Brazilian Cinema .
Following is the list of films and award-winning professionals in the 8th Festival Cine Music :
Trophy CineMúsica
Best Sound: " Sylvester "(awarded: Lina Chamie, Eduardo Santos Mendes, Luiz Manzano Adelmo, Tide Borges, Brazil Rene, Louis Robin, Eric Christani Ribeiro, Luiz Fernandes and Ricardo Farias)
Best Sound Mixer: " Serra Pelada "(award: John Godoy, Marcelo Raposo and Ubiratan da Silva - Bira)
Best Mixing and Best Noise Room (foley): " Tattoo "(awarded: Ricardo Cutz, Philip Burger and Renato Marques Galimberti)
Best Sound Design: " Praia do Futuro "(awarded: Waldir Xavier)
Best Sound Editing: " Morro dos Prazeres "(awarded: Bernardo Uzeda)
Best Sound Effects: " River Stream "(awarded: Ricardo Reis Chui)
Best Original Song: " The Boy and The World "(winners: Ruben Feffer and Gustavo Kurlat)
Best Song: " When I Was Alive "(winners: Marco Dutra and Caetano Gotthard)
Best Musical Selection: " Exiles of the Volcano "(awarded: Fábio Andrade)
Best Direction Dubbing: " Sweet Asbestos "(awarded: Guto Parente and Erik Paiva)
Short Light Trophy
Best Sound: "9493" (awarded: Marcellus L.)
Best Sound Design: "Let Diana in Peace" (awarded: Carlos Montenegro and Cláudio Nascimento)
Best Sound Mixer: "All These Days when I am Stranger" (awarded: Evandro Lima)
Programação Completa do 8º Festival CineMúsica Also check out the full schedule of Festival 8 Cine Music : Full Schedule of the 8th Festival CineMúsica
---