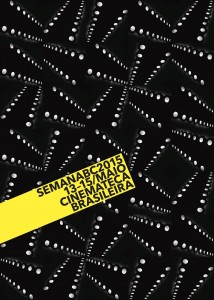 Cinemateca Brasileira em São Paulo e é aberto ao público com entrada franca. From 13 to 15 May the Brazilian Association of Cinematography shows the Week ABC in 2015 . With a packed schedule of conferences, panels and discussions with personalities from different areas of Brazil and foreign cinema, the event takes place in the Brazilian Cinema in Sao Paulo and is open to the public with free admission.
This year, the week has two tables dedicated to cinema sound. Are they:
Day 14/05, Thursday:
10h - The sound in the TV Series
"Addressing different sound aspects in the TV series. - Capture the direct sound to the post-production and finishing process"
Confirmed participants:
José Luiz Sasso (Mixer)
Luiz Adelmo Manzano (Sound Supervisor)
Rodrigo Meirelles (Executive Supervisor Audio)
Armando Torres Jr. (Mixer)
May 15, Friday
17h - Introduction to Sound on Audiovisual (TV Series, Long, Short and Documentary)
"Reading the script, listen to the director, which we can express through sound. All sounds are already in Direct Sound? Its use and problematic. The importance of voice. "
Confirmed participants:
Tide Borges (Sound Technician)
Carlos Abbate (Sound Director)