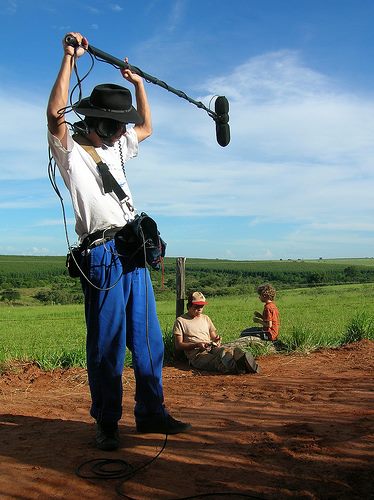 A Cidade é Uma Só " (Adirley Queirós, 2011). Interview with Guile Martins , responsible for the sound design of " The City is One "(Adirley Queiroz, 2011).
William Farkas: How did you get in "The city is one"? Do you have a previous relationship with the Adirley?
Guile Martins met Adirley in 2006, during a film festival in Florianopolis. Sobre a Maré ". Our short were being displayed, he with " RAP - The corner of Ceilândia "and I with" About the Tide ". We talked a lot, but I think more about football than cinema. We met again in 2009 at the Festival of Brasilia, I was there presenting the documentary " Tarabatara "in which I direct sound and sound editing. At that time I went to the Ceilândia take waterfall bath in beautiful waters of Goiás, something that made ​​me very happy, aired a little anguish of being in Brasilia, the master plan, an unknown and inhospitable place for me. In Ceilândia heard the sound of cars, sellers of the fair, people walking on the streets, soccer games on every corner, finally, a human landscape and sound very different from the master plan and the film festival circuit. That was when I attended the " Day of Strike "in the house of Adirley and talked more about sound, how to make the sounds of Ceilândia and other broken, without resorting to the use of" shooting sound and sirens in the distance, "that both the bothered as an aesthetic proposal. We talk about the sounds that fade over time, the knife sharpener, one biju vendor ...